Lucenea Studios
Saskia G. Van Vactor

About my carved porcelain pots


Since my years as a Graduate Student in Art at Kansas State University, studying with Professor Yoshiro Ikeda, I have been smitten with the beauty of carved porcelain with a celadon glaze. I love carving designs into the surface of clay, and porcelain is so fine it allows for amazing detail. Yoshi, introduced me to a friend of his, a Japanese potter, who did the most delicate flower carving into porcelain immersed in a pool of celadon. They looked like they were floating. His work inspired me. For a year or two I did nothing but carve porcelain! After leaving grad school and losing access to the fantastic gas kilns making celadons became more difficult. So, I pursued a different type of pottery that I had always loved, Italian majolica, but that is a different story, for a different day…
Several years ago, I met a potter in Devon, England, Tim Gee, whose work in carved porcelain brought my love of porcelain rushing back. Each piece I make is inspired by both these potters though each of our work is quite distinct.

I throw each piece with a very fine and translucent porcelain. Then while the pot is in a leather hard stage, I carefully, and gently carve my designs, paying close attention to the thickness of the walls. Like my seed pots, my ideas for carving stem from nature. After the bisque firing, each piece is lightly sanded then glazed on the inside. I love to leave the outside unglazed because the porcelain itself is so beautiful. Finally, each piece is fired to cone 10, about 2,200 degrees F.
The high fire, fine porcelain, thin walls and carving combined give each piece their translucency
About my carved stoneware
I have always loved the natural colors of clay. I am endlessly looking for naturally beautiful clay-bodies which can be carved and textures and left bare or with little glazing. I have recently discovered this amazing black clay which is smooth and elastic for building and almost shimmers when fired to cone 6. Often I will glaze the inside and add a gold luster, it makes a lovely contrast. These pots, like so many of mine, are carved with images inspired by plants and things found in the natural world.



About my fountains

My indoor fountains are an exciting journey for me. They are a synthesis of techniques and inspiration, bringing together so many aspects from my various works. Once again, inspired by nature, particularly a walk through the woods or along the beach, my goal has been to recreate some of that experience. Through textures, sounds, water falling, imagery, and the tactile experience of holding small organic objects, I hope to bring some elements of the natural world into our homes.

These are roughly 27 inches tall. (as deep as my kiln allows!) They are stoneware, meaning high-fired and very strong. They need an electrical outlet to run.


About my majolica

In a moment of crisis, several years back, I packed up my life and moved to Italy, for 3 months….or so I planned. I had always admired Italian majolica, and I found myself at a perfect time in my life to jump on a plane and immerse myself in art and the Italian culture. I flew into Firenze, found a language school and enrolled in the Scuola di Ceramica in Montelupo Fiorentino. Being the only foreigner, I needed to learn to speak quickly!

I lived in Italy on and off over the next 6 years, working for wonderful potters, Agostino,an amazing mask maker and mentor, and Maurizio, an artist who gave me lessons in fresco painting. I worked in a small ceramic studio in Imprunetta for 3 years, painting traditional Italian designs. During this period I learned about color, brushes, techniques for blending, glaze use and imagery, but mostly I gained experience and acquired fluidity of my brushstrokes and designs. It was an amazing experience where I felt challenged, engaged, and joyful.

Though the techniques and materials I use today are those I learned in Italy, the designs are my own. They are influenced by and adapted from images and patterns discovered through my travels, study of art and love of nature.



About my linoleum prints

Since my years as a Graduate Student in Art at Kansas State University, studying ceramics with Professor Yoshiro Ikeda, I also discovered the wonderful world of printmaking! As a child, Thomas Hart Benton was a sort of Grandfather figure for me and my siblings. I grew up surrounded by his lithographs, which are a part of my internal art library. After enrolling at Kansas State University I was delighted to meet Professor James Munce, an amazing artist, printmaker and teacher. With his guidance I explored many printmaking techniques, with a focus on lithography.
After graduating and losing the use of the printmaking studio my focus turned mainly towards ceramics.
Recently, having spent many summers in Okinawa, Japan, I re-discovered my passion for printmaking. Inspired by the Japanese scenery and traditional woodblock printing, I began a series of my own linoleum prints, which I could do at home! The images for these, like my pottery, are inspired by nature. Carving the surfaces is very much like carving the surfaces of my pottery with the additional and wonderful opportunity to explore the world of paper. I print on a variety of natural papers, also initially inspired by the amazing paper options I discovered in Japan. The textures, color variations, and weight of the papers I use bring something unique and rich to each print.

Saskia G. Van Vactor


About my seed pots

The idea of creating seed pots was inspired by the traditional Acoma seed pots of New Mexico. My shapes are inspired by nature.

An Acoman potter told the story of how these special pots, created to hold the seeds for spring planting, were pinch pot formed and the belly expanded by blowing into it. The breath blown into it also contained a wish for the harvest. As these pots became more symbolic and the painted designs more intricate, the wishes grew more expansive to include the whole community.

I fell in love with this idea.

Each of my seed pots contains a wish as well, one close and dear to my heart. With every breath blown in to expand the tiny belly of each pot I add a wish to protect our magnificent and breathtaking environment, our parks, our trees, our rivers, our cliffs, our oceans, our forests, our endless rolling plains.

Though I am one quarter Native American, I was not born or raised with their traditions, rituals or cultures, so although I love the traditional seed pots, I needed to create my own version of these wonderful vessels to express something unique. I looked to nature, as I always do for inspiration and that is where the idea of creating them in seed-like forms came from. I am always amazed how sculptural nature's seeds are. My seed pots take that hidden beauty held within the traditional pots, the seeds themselves, and expresses it on the outside. Like seeds, I see these little vessels as symbols of fertility and growth.

Similar to the Acoma pots, each piece is an original handmade vessel formed through the pinch pot method. As they harden, necks are attached and each surface is sculpted, carved and textured. Differing from the Acoman potters, my seed pots are intended to be viewed in clusters. While walking through the woods, I rarely pick up just one seed or pod but end up with a small collection.

My clays vary as do the final finishes. Many of these pots are painted with terra sigillata and then hand buffed, giving them a soft and natural feel.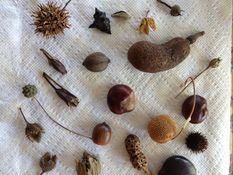 My Inspiration